Custom Saddle Fitting
Saddles refurbished and renewed to meet your current needs.
Saddles custom fitted to your horse at your stable.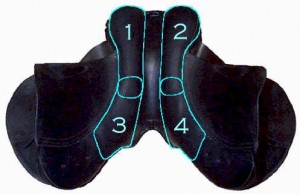 Specializing in saddle fitting, including the "Flair"™ air bag system.
Our services include:
replacing worn seats, skirts and flaps
adding large knee rolls
enlarging panels with gussets
re-stuffing of wool panels
converting foam panels to wool
trees can be adjusted and repaired.
Also specializing in side-saddle fitting and restoration.
Saddles refurbished, renewed, re-stuffed, retrofitted, repaired and restored by Anthony Cooper.
See Anthony's saddle fitting guidelines.
See our price list for specifics.